The Halloween 2nd Night event is held from 23 October to 31 October 2017. It features a hatcher which features Halloween units.
Special Halloween 2nd Night Hatcher
Edit

Event Period: 10-23-2017 23:00 PST ~ 10-31-2017 22:59 PST
10x Hatcher guarantee 4★-or-higher units!
Halloween Version Unit guaranteed if you tried the 10x Hatcher 3 times!

After trying the 10x Hatchers 30 times, it will become a 10x Hatcher that guarantees a 4★ or higher unit for 500 Polygons.
Limited Edition Units
Edit
Free Hatcher Every Day!
Edit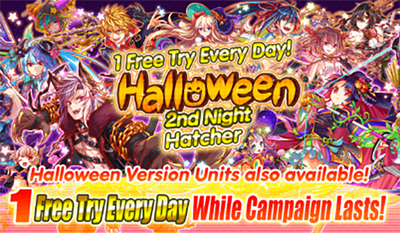 Event Period: 10-23 23:00 PST ~ 10-31 22:59 PST
Use one Rare Hatcher for free every day!
Aside from the Halloween units, normal units can also be acquired with the Free Halloween Hatcher
Limited Time Quests
Edit
Gimme Sweets!Edit

Event Period: 10-23 23:00 PST ~ 10-31 22:59 PST
The "Gimme Sweets!" quest features Candy Panels, and will drop Halloween Chocolate and Halloween Cookies that can used as Enhance Materials for Sweet Trickster Hel. Halloween Chocolate gives Sweet Trickster Hel 2 bugs while Halloween Cookies gives 1 bug.
Limited Time Ultimate Quest
Edit
Sweet-Fanged VampireEdit

Event Period: 10-23 23:00 PST ~ 10-31 22:59 PST
This campaign exclusive ultimate quest "Sweet-Fanged Vampire" features the Halloween Version of Loki, Disguised Drunkard Loki. By completing missions, the player can recieve the special version of this unit, Intoxicologist Loki and Nightcrawler Loki.
[Note about "Halloween Version Loki(s)"]
You cannot gain bugs by fusing the Halloween Version Loki with the normal unit Loki or Destroyer of Worlds Loki
Intoxicologist Loki and Nightcrawler Loki can each be acquired only once through missions. Be sure not to fuse them with Disguised Drunkard Loki.

Please understand that WonderPlanet do not take responsibility for any accidental button presses done by users.
Special Login Bonuses
Edit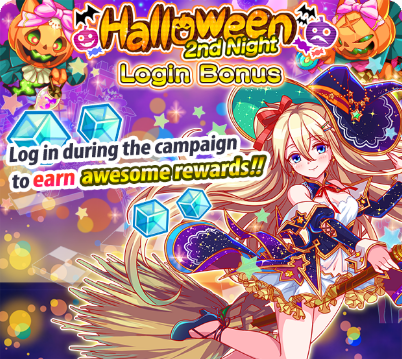 Event Period: 10-24 19:00 PST ~ 10-31 18:59 PST
The total amount of days you log in during the campaign will earn you amazing presents! Log in to earn awesome rewards!